Taken with my cellphone whilst waiting in the queue – it was a LOT busier than it looks in the photo haha
So today has been a real busy one….not usually my thing on a Saturday. But this time it was worth it. A friend told me about this scrapbooking shop just round the corner (thanks, Julie) from me called The Scrapbook Factory Shop, and it wasnt long before I found them on Facebook & joined the group, and then joined their blog as well. Well, as it turns out, they had a Grand Opening of a whole new section in their store (25% off everything), and if you signed up as a follower on their blog, you'd get a goodie bag when you arrived. Awesome!! And it couldnt have come at a better time too! I'm horribly broke this month, sniff sob sniff.
So, I woke early (8am!), dawdled a bit, showered, dawdled some more, then had a quick (but very decadent!) breakfast (seriously, one packet of chocolate chip Oatso Easy + not even a full teaspoon of hot chocolate powder = one very delicious, decadent breakfast! Its like eating soft chocolate paste, yum!), and off I went.
I got there just after nine and spent the next hour looking around. Its very nice – tons of paper, tons of transfers, lots of scrapbooking stuff everywhere. Since I make cards, not scrapbooks, it was a little limited for me, but I ended up buying 12 sheets of patterned paper, 1 pack of 100 brads, and 1 pack of 100 eyelets, and a really cool punch which I have no idea how I'll use haha. I know I'll use it, but just have no vision just yet. Then, in my goodie bag I got 2 transfer rub sheets (1x "Wonderful" and 1x "Reminisce"), 2 scrapbooking decal tags (not sure how to describe these?), and one hard cover flip notebook album in the shape of a tree! I was very impressed when I realised it was over R115 worth of goodies! Thanks Carolyn!! After all this – I might even start scrapbooking hehe! Although I always wanted to do my wedding album as a scrapbook…how cool would that be!!
My papers, brads, eyelets, and punch (with example punched out just below)
After that bit of shopping, I went to a craft market being held on the field around the corner from my parents (where we walk the dogs) and then went to the Rondebosch Craft Market to browse around. Then dashed to Kenilworth Centre's Pick n Pay for some stuff and finally came home. The temperature must have been near 35 degrees today and HUMID so it was killer to be so active and busy in this heat – and my car has no aircon! Anyway, I'm off to shower and then off to a braai…hopefully tomorrow will be nice and relaxing…and maybe a little less humid please! As a final word, if you're into scrapbooking and you're in CT, then this is the place to go!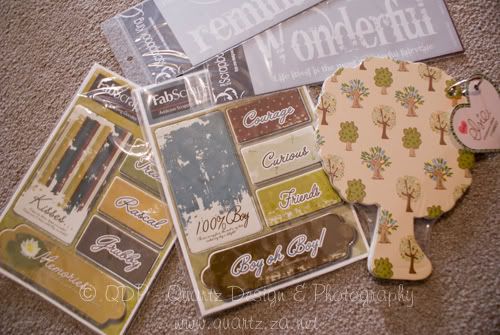 My 'Goodie Bag' items: transfer words at the top, tag decals just below, and the tree notepad
Of shopping and bargains…