This is a simple card I made for my sister's 29th birthday which is tomorrow (happy birthday, sis!). Its simple, but I love it! This card is easily customisable with colours and different decals (ie a four-leaf clover for a good luck card instead of a cupcake), so go wild with your imagination!
As always, I'd love to see your creations, so please link me to your blog/card so I can check it out. If you have any questions, just comment and I'll answer, no problem. Someone did ask if these cards fit into a normal envelope, and the answer is yup. No special envelopes needed. I'm all about the easy stuff haha.
Please forgive the whoopsy at the end of the video, I forgot to stamp my "Handmade by Tails" stamp on it and had to merge two video clips together. Unfortunately it is rather blantant haha but such is the life of video tutorials. Also forgive the bad photography of the cards…the weather is overcast which doesnt make for quick & easy photos (and I was kind of in a rush). Thanks for watching, and hope you like the card!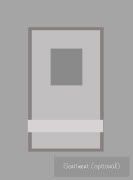 The template (click for larger version)
(video) Tutorial: Cupcake Birthday Card