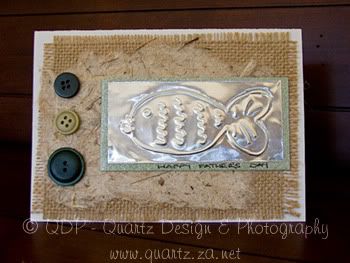 So while I had my card making stuff out, I thought I best make a Father's Day card tutorial while I'm at it.
This card is based around using natural colours, textured materials, and foil for a Man's Man type of card. Of course you can adapt this card to any recipient ie mom, brother, sister, aunt, uncle, or even an open-ended card like "Get Better Soon!" or "Happy Housewarming". The possibilies are endless, as always.


I used buttons down the left hand side, but you could use brads, stamped images punched into circles, eyelets, or anything else. Just keep it in threes and try vary the sizes if possible (unless they're the stamped circles). You could also attach some brown ribbon if you'd like.
Unfortunately, or amusingly (whichever you prefer), I ran out of time on this video (right at the end!) so I had to connect two tapings together. Hope it doesnt look too terrible haha. As always, I hope you enjoy this video, and please let me know your thoughts, whether you made it, and even feel free to let me know where to look for your version of the card! I'd love to see it!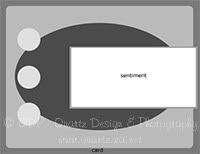 I've also added a template to help you design your own card, based on this one, and I've added templates to my previous card tutorials. I hope you like them and find them handy!
(video) Tutorial: Father's Day 2009