Do you collect anything? (pick all that apply)

Movies/DVD's/music (67%, 4 Votes)
Ornaments (ie faeries, dragons, etc) (33%, 2 Votes)
Other (please specify in a comment when the results go up) (17%, 1 Votes)
Dolls/Bears (17%, 1 Votes)Dust (17%, 1 Votes)
Tourist-y things (ie things from other countries, etc) (17%, 1 Votes)
Cars (0%, 0 Votes)
Fish (0%, 0 Votes)
Posters (0%, 0 Votes)
Spoons (0%, 0 Votes)
Shells (0%, 0 Votes)
Something not so mainline (ie someone unusual) (0%, 0 Votes)
Candles (0%, 0 Votes)
Shoes (or other clothing related items) (0%, 0 Votes)
Action Figures (0%, 0 Votes)
Stamps (0%, 0 Votes)

Total Voters: 6
Thanks to everyone who voted. New poll up: Stephanie Meyer/Twilight vs JK Rowling/J Rowling!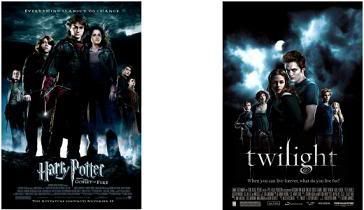 I've been reading a bit on this whole Twilight saga…and frankly, I'm disappointed. I watched the movie and I didnt like it. So I FB'ed about it on my status and was told to watch it again because I clearly missed the important bits. Quite frankly, its not the movie I had a problem with, the special effects etc were great. My problem was the stunted acting and the jerky dialog. Nothing flowed, it just didnt mesh well with me. For me, it seemed to be written a little under my level of reading, whereas HP can and does appeal to both kids and adults alike. Someone mentioned (in the link I add below) that Twilight is a phase, and that Harry Potter is a classic. My sentiments exactly. I'd sooner push a HP book in front of my (future) child than Twilight.
My opinions might be unfair as I havent read the Twilight book(s)…yet. I always believe the book is better than the movie, so I'm willing to give them a try. In fact, I'm clinging to this with Twilight. I'm a big, big Harry Potter fan, no doubt about that, so Twilight has some big shoes to fill (though I know they're not even written on the same level or topic). I think that JK Rowling is an amazing author and the cast they found for the movies were the best of the bunch, which made the movies even more fantastic. Also taking into consideration Evanna Lynch who plays "Loony Luna Lovegood" in HP wasnt even an actress when she auditioned. Included in this list of great actors, is Robert Pattinson who played Cedric Diggory in HP and the Goblet of Fire. What on earth happened to him when he entered Twilight?? And Bella??? Need I say more! (and who on earth allows two co-actors to date whilst doing a movie?? It should be a clause in their contracts that no fraternising with the cast is allowed…I think this relationship might damage their acting ability on screen more than they think…but I could be very wrong about that…who knows. Still, it just doesnt seem right to date your co-star).
Anyway, there appears to be a lot of controvosy over this Twilight series and the author, and even Stephen King himself had none-too-good things to say about Meyer.
King, whose Stephen King Goes to the Movies collection came out last week, doesn't know how much of an influence he had on Meyer, but he does know that Rowling read his stuff when she was younger. "I think that has some kind of formative influence the same way reading Richard Matheson had an influence on me," King explains. "People always say to me, 'Well, what about H.P. Lovecraft?' And the thing was, you read Lovecraft when you were a kid but I never felt that he was speaking my language. It was chillier than my heart was, and when Matheson started to write about ordinary people and stuff, that was something that I wanted to do. I said, 'This is the way to do it. He's showing the way.' I think that I serve that purpose for some writers, and that's a good thing. Both Rowling and Meyer, they're speaking directly to young people. … The real difference is that Jo Rowling is a terrific writer and Stephenie Meyer can't write worth a darn. She's not very good."
source: http://blogs.usaweekend.com/whos_news/2009/02/exclusive-steph.html
So, what are your thoughts? Do you like or hate Twilight? Do you like or hate Harry Potter? What are your thoughts on the movies and the authors? I want to hear your opinion!
Poll Results: Do you collect anything?