I hope everyone had a safe and funfilled New Years Eve. I spent mine at my flat, with my bf, best friend, and J. We had a braai, drank a bit, and just had a good time. After dinner we started making some shooters in the kitchen, Liquid Cocaine was our drink of choice, and on a whim I brought out my black light/UV light and we had some fun with my Neon shot glasses and UV Pen. We drew silly things on our faces and laughed so hard!
Eventually we moved out onto my patio under the Blue Moon and watched the cars go by. After seeing so many security company cars go by, we decided to turn it into a drinking game. Drink a shot for every security car you see.
Needless to say after we had our shots at the ready, no security cars were to be seen! So after waiting for a loooong time, we decided to drink for any car we saw! This helped hehe. We even saw someone get pulled over by a police car (this was worthy of two shots!).
Midnight was counted down and while we wished each other, the sounds of fireworks could be heard in the distance and people were cheering in the street. In fact, some people we couldnt see called out, to no one in particular, "Happy New Year!" and we all called back the same, to which they replied with a "Whoop whoop!" so the cheer was infectuous. Our neighbour brought his kid outside to shout Happy New Year and they blew their whistles and noise makers, so I ran inside and got a noise maker too (one of my Nano toys hehe) and the night was filled with squawking and shweeeee'ing and laughter.
At 3am another family came home and made their way past my flat and we wished them and while most of the group went on to their own flat, a very friendly German man stayed with us to chat so we poured him a shot of Woman's Revenge and one for ourselves and toasted the New Year.
It was a relaxed party, and spent with people I love which was perfect. And so, 2010 is here, new beginnings, a fresh start, and all that jazz.
May 2010 be YOUR year. The year good things happen and may it be prosperous for you and yours. Happy New Year!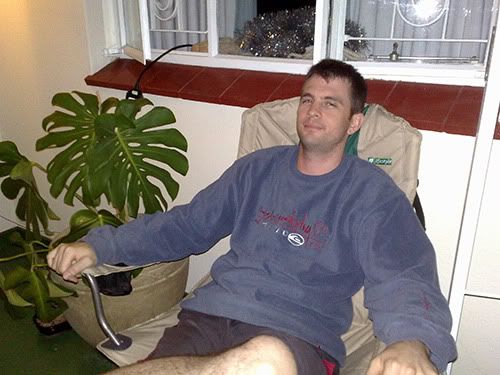 Chillaxing waiting for the braai to be ready

The Vegetarian "drooling" over the meat haha

Me!

Nom nom nom!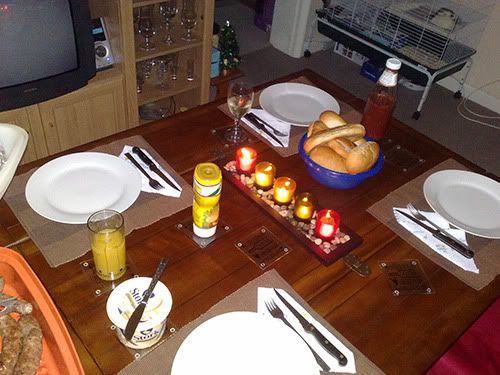 Our table ready and waiting (with the rattles in the background hehe)

"Liquid Cocaine" or "Smurfettes" or "Trashy Smurf"

The "tattoo" I gave V haha

Jay's creepy eyes I drew on his eyelids haha!

Our shots of Woman's Revenge hehe