Meet Vignette and Iso, my two new rat babies! Their names took forever to choose but eventually these were the two names decided on. Both are photography related as I try go with themes relevant to my life at the current time of aquiring new babies, and I couldnt think of anything Asus related at this time.
So Iso was one of the first names that popped into my head, and I like it because it sounds nothing like a normal name. Iso was taken from ISO which is film speed in relation to photography. She's a Burmese Self.
Next is Vignette. This is pronounced Vin-yet and relates to the dark (or white, in some gaudy cases) corners that one sees on photos, either done purposefully in post processing or done by a lens adapter or lens hood (usually on a wide angle lens).
Wirenth has not been as horrible to them as Orly was to her and Ramoth, but she's doing her fair share of nipping and kicking which is difficult to watch, but is natural. Rule of thumb, no blood, no foul. However I do keep the spray bottle well filled and Wormy does get her fair share of spritzes. At the moment, if I have the all on the couch together, they're fine but if I put the girls in Wormy's house, she hunts them down and bites them. So now they're all in the babies' house together, which is not Wormy's territory so she's behaving…for now. At the moment, the worst she's doing is giving me doe eyes to let her out of this cage thats "not big enough to swing a cat, mom!" Poor thing looks so claustrophobic.
Anyway, without further ado! Tons of pics!
Meet Vignette and Iso!

Iso – this pic rocks in high res!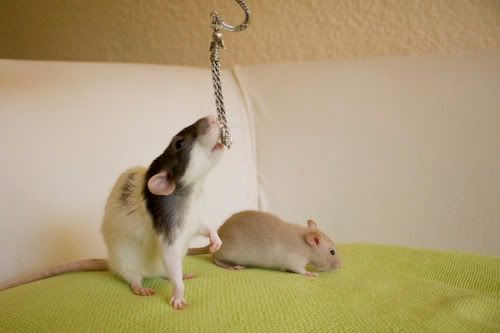 Fishing for rats! I almost caught one!

Almost caught another!

Wormy showing em who's Top Rat around here

Peeping over the couch: Vignette, Iso and Wirenth

It's Iso!

It's Vignette!

Later, when the girls were all tuckered out, this is where Iso thought was a nice place to sleep…in the food bowl!

And Wormy slept on the couch with me just behind my legs…

And then moved on to my waistline, legs a-danglin'

Behbeh rat feet!!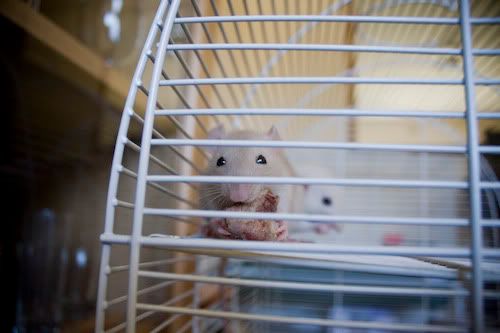 And finally, I gave em a chicken bone and I thought this was a very cute face to photograph…