Dont you just hate it when you run out of time/energy/steam to blog about stuff that's happened. And then by the time you've got around to blogging about it, it seems like unimportant news. Well I do, but nontheless I shall blog anyway!
For my mom's birthday last week, aside from treating her to a sushi dinner, we took a trip to Fairview to do some cheese and wine tasting. Earlier in the week I phoned through and upgraded our vouchers from the regular tasting to the Beryl Back Tasting Room (R60pp) which was well worth the money!
Beryl Back Tasting Room
Inside the glass room, we were served our tray of 7 cheeses, and we were each given a menu with our selection of tasting wines inside. We were also served some homemade bread and a selection of three olive oils to eat during our tasting. Our wine guide poured us each a tasting glass of wine, starting with the whites, and then proceeded to explain how it was made, what made the wine special and what we were to try and taste. It was quite complicated so I wont go into it here, but it was very interesting. He then left us to enjoy the wine with our cheese that was paired with that wine. This went on for the next 2 and a half hours until all the wines were tasted (8 of them) and all the cheese was finished.
Our cheese platter

Chees….er, Cheers!

Patrick, our Wine Guide
While we were there, our guide came up to our table and informed us that the girl pacing around outside on her cellphone had just been proposed to, and when her and her fiance came inside could we please all applaud. This made me smile as it brought all the memories back from my engagement…ah the warm fuzzies!
After our tasting, my sister bought some wine she had enjoyed and my mom bought us each some cheese (I loved the Crottin cheese!). We then went off to look at the grounds, poke our fingers at the Koi to nibble on, and then made our way to the restaurant for a quick cuppa before they closed (and I, after craving this for weeks, finally sated myself with Baked Cheesecake…yum!).
This artwork is made of random items made from iron (coat hook, pitchfork, etc)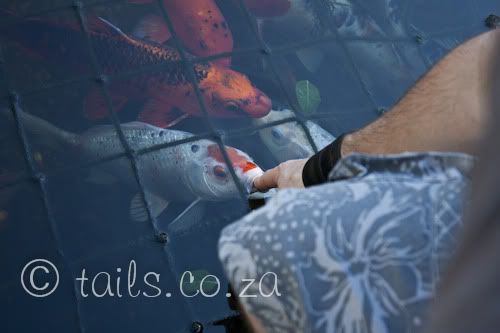 Koi nibbling…
By that time, it was nearly 5pm and closing time, so we watched the goats in their Goat Tower (pics below) and then made the long (ok, not that long) trip home.
The Goat Tower (yes, they sleep in there!)

Nomnomnom

Goat