My Christmas gift from my fiance this year was two GelaSkins, one for my HTC Desire Z and one for my Kindle 3 (now known as Kindle Keyboard since the new Kindles came out).
Happily I logged on to GelaSkins.com and browsed the many, many skin options available by so many talented artists. I eventually decided that, for my Kindle, I needed a darker colour one, as the light colours just didnt quite match with the grey background of the original Kindle cover.
And of course, I love nature and photography, so who better to go with as an Artist but National Geographic! Right, so I'd narrowed down the choice (the fiance had grown board by this point so it was just me now haha) of artist, now I just needed to pick a design.
It was a tough choice between the Baobab Silhouette and The Orion Nebula…the colours of the Baobab just pulled and tugged at me, and made me imagine sitting somewhere under the beautiful African sky reading my Kindle as dusk fell all around me (until the light became too dim to read haha). But the contrast of the bright pink colour around the keyboard bugged me. So I looked to the Orion Nebula. Immediately my mind was drawn to Pern, one of my favourite series of novels as I've mentioned before. Plus, if I look up into the night sky outside my house, I can see Orion and his Belt on many an oft occasion.
And the contrast by the keyboard wasnt too noticable and it didnt bug me. Done and done.
We ordered it on the 28th, and sadly had to pick "snailmail" for $3.95. I just couldnt justify spending $19.95 on P&P when the Kindle skin itself was $17.95 lol. But, I sat back to wait, and on on Jan 2 I got an email to say my order had been shipped, and on the 20th it arrived! (However, Murphy and his Law entourage decided to show his face and the Post Office was closed so I couldnt collect it til today).
So as soon as I got home, I whipped it open and ooh'd and ahh'd at the pretty colours (and the most beautiful Gizmo who I made custom for my cellphone from my own photo of course!). Of course I had to take before (, during) and after photos of the skin before applying it to my Kindle, so I present to you the transformation of my Amazon Kindle 3 to my Amazon "Orion Nebula" Kindle 3: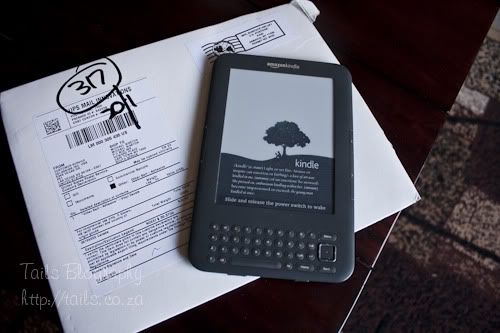 Before, front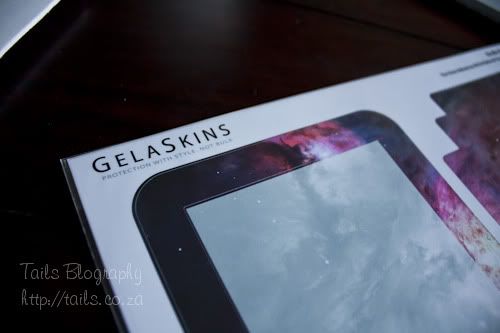 GelaSkin!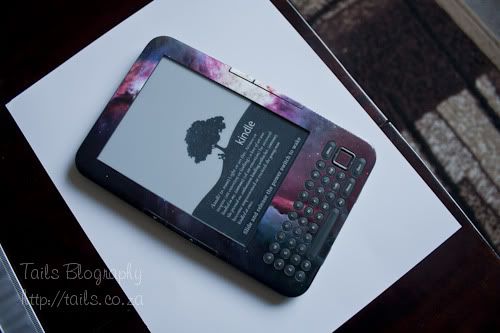 Skinned!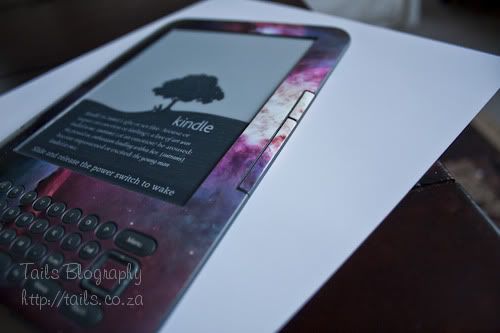 Close up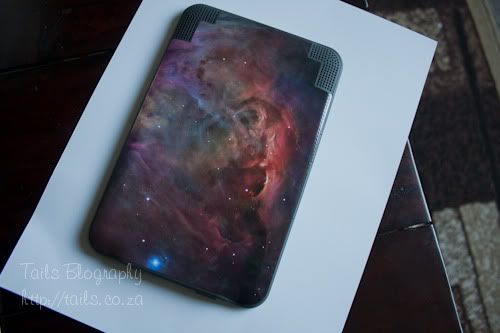 Back
I didnt upload a photo of it, but the texture of the gelaskin is a crosshatch pattern which makes it seem more sturdy and stretch resistant while applying, and you can reapply it a few times before it loses its stickiness and becomes unusable.
All in all, I'm very happy with my Kindle's new makeover, and for anyone wondering if its worth it to spend the dough, I highly recommend GelaSkins 🙂